Became The Hunted STEAM KEY REGION FREE GLOBAL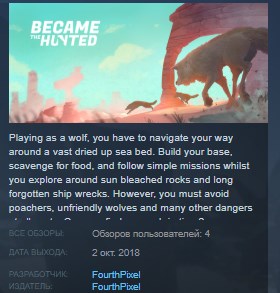 https://store.steampowered.com/app/917600/Became_The_Hunted/
💎💎💎💎💎💎💎💎
STEAM KEY REGION FREE GLOBAL
Became The Hunted is a role playing adventure game set in a cracked scrubland that was once a former sea bed.
You are a lone wolf, whose cub has been snatched by poachers. A massive, open world full of adventure and exploration awaits you as you search for clues as to the location of your cub.
When you initially awake and find your cub missing, the race begins. Travel throughout the land; searching amidst the sun bleached rocks, extensive ravines, luscious forests, find hidden caves and explore long forgotten shipwrecks whilst looking for your stolen cub. However, keep a careful eye on your stamina, health and hunger levels because if either one of them drops too low - you will die! As you progress through the game levels you will be able to scavenge for scraps to build a camp to rest; food to eat and water to drink which will increase your levels and enable you to keep going for longer. And remember - avoid the randomly occurring sand storms which can seriously limit your vision.
Do you have what it takes to conquer the sub missions as you head towards the end goal of reuniting with your missing cub? Get, Became the Hunted, now and see if you have what it takes.
---
ИНСТРУКЦИЯ ПО АКТИВАЦИИ:
1. Необходимо скачать и установить Steam http://steampowered.com/download/SteamInstall.msi
2. Зайти под своей учетной записью или зарегистрировать новую.
3. Перейти в раздел "добавить игру" и выбрать "Активировать через Steam...", ввести ключ полученный после оплаты.
Цена:
10
руб.
Купить или узнать подробнее
← Назад на главную страницу